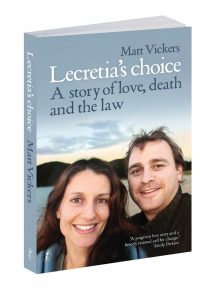 There's a moment in my new book, Lecretia's Choice, where I describe Lecretia telling me she's made the decision to take her case to the High Court. At the time, I tried to dissuade her, worried about the impact it might have on us both.
"It's my case," she said, "You won't even be involved."
Eighteen months later, I couldn't be more involved. Neither her nor I could have predicted how things would turn out.
I moved to New York for work in April of this year, and this weekend I head back to New Zealand for the first time since then.
On the 24th of August I will appear before the Health Select Committee to speak to my submission. It's too early to say just how the submissions have turned out, but having had a glance through some of them, it's clear that church groups have been very active in compelling their parishioners to write to the committee. There's a large number of sheets of paper with "I am against euthanasia because …" printed at the top, with printed instructions at the bottom to leave their handwritten submissions in a pile at the back of the church for collection. It's not hard to imagine the content of the sermon that would precede a flurry of pious Sunday morning submissions.
It's not surprising. Similar campaigns were run during the select committee phase of the same-sex marriage bill. That bill ultimately passed because politicians could see their way to doing the right thing despite fervent and often misguided opposition. It's my hope they'll do the same with assisted dying.
On the 29th of August, I will be launching Lecretia's Choice at parliament in Wellington. The Hon Nikki Kaye MP has agreed to host the evening, and it has been combined with the inaugural Lecretia Seales Memorial Lecture in Law Reform, which will be given by Sir Geoffrey Palmer QC.  I am really looking forward to the evening, and if you'd like to come along you'll be very welcome. Parliament security requires all guests to have an invitation, so contact law-events@vuw.ac.nz  if you'd like to receive one. I hope to see you there.
I'm also travelling to Christchurch, Wellington, Auckland, Melbourne and Brisbane to promote Lecretia's Choice between the 23rd of August and the 11th of September. I'm visiting WORD Christchurch, where I'm appearing with the wonderful Caitlin Doughty, and I'm having a conversation with Andrew Denton in Melbourne at the School of Life. I'm honoured to have been invited to speak at the Brisbane Writer's Festival, which features big names like Lionel Shriver, Alexei Sayle, and Yann Martel. I've placed a full list of events and venues on the Lecretia's Choice book page.
It'll be strange to be back in New Zealand. The home that Lecretia and I shared together has new occupants, so I won't be visiting it. I'll be arriving in Wellington as an outsider, someone passing through, and the place is so associated with Lecretia in my mind that I predict her absence will make it unfamiliar, like a foreign land.
Although Lecretia convinced me that I wouldn't be involved, it's easy to see in hindsight that my involvement was inevitable. We were a team, and we made a decision to support each other in seeing this through.  So that's what we'll do.