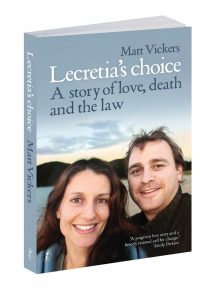 Lecretia's Choice by Matt Vickers was published in New Zealand and Australia by Text Publishing on Aug 29 2016.
Buy The Book
eBook available internationally:
Purchase for Kindle
Purchase for Apple iBooks
Purchase for Nook
Print edition in New Zealand:
Print edition in Australia:
Praise for Lecretia's Choice
'This is a brave, intimate book, both agonizing and uplifting, and unflinchingly honest.'
—Andrew Solomon, author of 2001 National Book Award winner and Pulitzer Prize finalist The Noonday Demon: An Atlas of Depression, and President of PEN American Center.
'Matt Vickers asserts "stories are the most powerful force in the universe." This is the story of his wife, Lecretia, and her extraordinary advocacy in the face of ordinary tragedy. It will help change the world.'
—Barbara Coombs Lee, President of Compassion & Choices USA
'A poignant love story and a fiercely rational call for change.'
—Emily Perkins, author of The Forrests and Novel About My Wife
'A beautifully written story of courage, determination and a legal race against time.'
—Professor Gillian Triggs, President of the Australian Human Rights Commission
'A tragic story, heart-breaking; so beautifully written…Lecretia's Choice was an almost un-put-downable book. Every home should have a copy, for a reminder, if nothing more, of what it is to have heart, humility and hope.'
-Simon Sweetman, Off The Tracks (Full Review)
'"The unwinding skein of her life was blowing free in the wind, and it tormented her." If the case for assisted dying could be won through emotional appeals, this sentence would surely clinch it…Vickers is an assured writer who knows the importance of letting the moment speak for itself.'
– Fiona Capp, Sydney Morning Herald (Full Review)
'This book is a marvellous example of what love can do and a testimony to the spirit of resilience. It isn't always an easy read but it is a great retelling of a life well-lived and of the courage that allowed Matt and Lecretia to step outside of themselves at the most difficult time in their lives, and stand tall for their beliefs.'
– Marion Dreadon, Booksellers New Zealand (Full Review)
'A very human story… Articulate, thought provoking, honest and poignant.'
– Page & Blackmore Booksellers
'Lecretia's Choice is about the life but more particularly the dying of Lecretia Seales, a dynamic Wellington lawyer whose place is now etched in international legal history in relation to end-of-life law reform. It is a deeply distressing and confronting book.'
– Dr Ian Freckelton QC, Journal of Law and Medicine
About
A brilliant and hardworking young lawyer in Wellington, New Zealand, Lecretia Seales met and fell in love with Matt Vickers in 2003. In Lecretia's Choice, Matt tells the story of their life together, and how it changed when his proud, intensely private wife was diagnosed with terminal brain cancer.
The death she faced—slow, painful, dependent—was completely at odds with how she had lived her life. Lecretia wanted to die with dignity, to be able to say goodbye well, and not to suffer unnecessarily—but the law denied her that choice. With her characteristic spirit, Lecretia decided to mount a challenge in New Zealand's High Court, even as her strength was failing. She died on 5 June 2015, at the age of forty-two, the day after she learned that the court had ruled against her.
Lecretia's Choice is not only a moving tribute to an extraordinary woman but compulsory reading for everyone who cares about the right of terminally ill people to die on their own terms.